Watauga Food Council Connects Local and Healthy Food Advocates
The High Country boasts an emerging local food scene, with vibrant farmers' markets, local products featured on restaurant menus, craft breweries popping up, and home gardening at an all-time high. While our terrain makes some large-scale commodity production difficult, small farms producing a variety of products continue cropping up.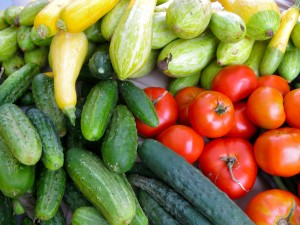 People are interested in re-establishing a local food system for many different reasons. Since locally produced food is fresh and lightly processed, it is often considered to be the most nutritious and best for health. Some consumers want to know how their food is grown, including varieties chosen and pest management practices utilized. Small-scale producers often have diverse operations with sustainable on-farm systems including composting, crop rotation and farmscaping. Short distances to markets, instead of the 1500 mile average travel to plate, is also considered more environmentally friendly. A local food supply alleviates concerns about trucks being unable to make it up the mountain, for whatever reason. As for gardeners, a good amount of money may also be saved by growing food. Plus, nothing compares to fresh from the garden produce.
Over the past decade, a number of not-for-profits have developed to work on food system projects, and there is growing interest from our university and health community. Groups have worked together informally and have accomplished some pretty amazing things, such as establishing the ability to accept EBT (formally food stamps) at the Watauga Farmers' Market.
Now there is a more formal structure in place to allow groups to collaborate! The Watauga Food Council was established during the winter of 2016, after planning and discussion beginning nearly a year before. The purpose of the Council is to serve as an umbrella organization to coordinate and strengthen our local food system.
They envision is a food system that:
Is just and fair
Builds a strong community
Supports vibrant farms
Nourishes healthy people
Supports sustainable ecosystems
Builds a thriving local economy
As a way to address this vision, the Council has established three topic areas of concern. They are food access and security, promotion of the local food system and healthy foods, farming as a viable career choice and community support of many diverse local food businesses.
The Council is already making big picture impacts by working collectively. With support from the Community Health Team at AppHealthCare (formerly Appalachian District Health Department), the Council was able to expand its current capacity to strengthen our local food system by purchasing food dehydrators, a vacuum sealer, and food processor. Excess produce from farms and stores that would be composted or fed to pigs will be dehydrated or frozen at the FARM café commercial kitchen, then stored at the newly established food hub freezer for later distribution to low-income residents. Food dehydration classes will also be offered to the public.
The Council also plans to present food issues to sectors of government that have capacity to support local food and health.
Current active members are representatives from AppHealthCare, Blue Ridge Women in Agriculture, Caldwell Community College Culinary Program, Hospitality House, N.C. Cooperative Extension, Preserve Heritage and Regional Markets Now, Town of Boone Sustainability Committee, Watauga Farmers' Market, and Western Youth Network.
The Watauga Food Council would like to have representation from a broad base of the community. If you or your organization has an interest in re-establishing our local food system, please contact me or a member of a participating organization to find out how you may get involved.
Margie Mansure, M.S., R.D. is a registered dietitian/nutritionist and extension agent with N.C. Cooperative Extension. She offers personalized classes to improve the health of citizens in Watauga County through worksites, schools and community groups. margie_mansure@ncsu.edu (828)264-3061