Free Extension Successful Small Farm & Vegetable Market Gardening Course Series – Begins 2/5/18
Find this article at:
go.ncsu.edu/readext?505390
Have you heard about expanding sales opportunities for local and/or organic growers? Local produce that distinguishes itself from the 'big box" store offerings continues to be in increasing demand at area farmers markets. Do you have some land that has been idle for a few years, and now are looking to put it into potentially profitable production? Do you want to farm more sustainably? Have you considered growing and selling your produce as "natural," "low-spray," or "organic?" Answering yes to any of these questions may mean that the upcoming class on Small Farm & Vegetable Market Gardening taught by N.C. Cooperative Extension is right for you.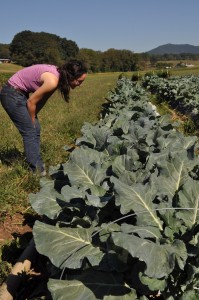 The class will be filled with information on proven techniques for successfully growing vegetable and field crops while building your soils' health and reducing or even foregoing the use of synthetic inputs on your farm. Many of the techniques presented have come out of organic farm research and practices, but all are proven strategies that can work for all types of small farm and market garden production, whether you want to call your produce organic or not. This class is geared primarily toward growers who are already set-up to begin commercial-scale production, with an acre of tillable land or more and the desire to grow crops for sale to retail or small wholesale customers. Smaller-scale gardeners are also welcome, but all class participants should anticipate sections of the class covering how to access and sell profitably into local food markets, and equipment ranging from wheel hoes and 2-wheel tractors to larger machinery. Topics covered will include soils & fertility, disease identification & control, insect identification & control, weed management, post-harvest handling, food safety, and farm-scale regenerative design.
The class will meet on Mondays, from 5:30-8:30 p.m., at the Watauga County Agricultural Conference Center – 252 Poplar Grove Rd. -Boone, NC 28607. The course is free and open to all. Participants may choose to attend whichever classes are of interest to them. Growers attending the full course series will gain a broad understanding of organic and economical low-input market gardening strategies.
Schedule:
February 5 – Vegetable Varieties Suited to the NC Mountain Climate
February 12 – Soils & Fertility for Organic and Economical Low-Input Farms
February 19 – Cover Crops & Weed Management for Organic and Economical Low-Input Farms
February 26 – Disease Prevention for Organic and Economical Low-Input Farms
 March 5 – Insect Pest Prevention for Organic and Economical Low-Input Farms
March 12 – Tying Soil Fertility and Pest Management Together for Effective Crop Rotations
March 19 – Organic Spray Options Useful On All Small Farms and Market Gardens
March 26 – No Class
April 2 – Extending the Market Garden Season via High Tunnel Production
April 9 – Crop Profiles & Details: Garlic & Broccoli as High Country Cornerstones
April 16 – Post-Harvest Handling for Selected Crops & Food Safety Considerations Under FSMA
April 23 – Small Farm and Homestead Design Using Permaculture & Other Ecological Designs
April 30 – Snow / make-up class date to cover whatever we've missed!
Registering ahead of time will assure that space, handouts, and other materials will be available to you. To save a spot in this class/pre-register, call the Watauga County Cooperative Extension office at (828) 264- 3061. For any other questions, e-mail Richard Boylan at richard_boylan@ncsu.edu