Community Supported Agriculture (CSA) Programs Serving Watauga County in 2018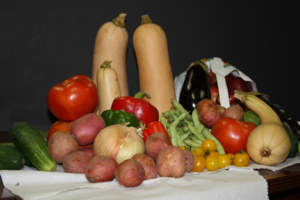 What is a CSA?
Making a living wage as a small farmer can be challenging. Fortunately, community members can take action to help support local farms. One business model that has recently become very popular, CSA programs, involve eaters becoming shareholders. Shareholders pay for a share of the harvest at the beginning of the growing season, which enables growers to purchase seed and start production without having to take out a loan. Then for around 20 weeks, you receive freshly harvested, seasonal produce, and the challenge of cooking and consuming all of it. Many growers help out by providing recipes along with the abundance.
While there is certainly a shared risk in paying for food that has not even been grown yet, most farmers are hard-working and honest, doing everything possible to produce a variety of safe, healthy, high quality food. Tasty varieties may be grown that are typically not offered in grocery stores. Additionally, getting to know the family who grows your food can be a meaningful experience.
Shopping at a farmers' market is also a great way to support local growers. But if you find the timing or location inconvenient, joining a CSA may be a better way to get your nutrition through ultra-fresh, locally grown food.
Against the Grain Farm
A CSA membership with Against the Grain is $500 and includes 20 deliveries throughout the season. May pick up in Boone at Horn in the West or at the Zionville farm. The produce is organically and biodynamically raised, utilizing heirloom and open pollinated varieties. Meat add on options are available, and they also offer a meat CSA, with several options to choose from. You may sign up any month of the year for the meat CSA. Sign up now for the vegetable CSA on the website. atgfarm@gmail.com, http://www.atgfarm.com/, Holly Whiteside and Andy Bryant.
Creeksong Farm
Lasts for 20 weeks, beginning in late May, with several pick up options. You may choose Tuesdays from 4:30 – 6:30 at the Agricultural Conference Center loading dock or at the farm in Creston, the Watauga farmers' market on Saturdays, or Wednesday afternoons between 4:30 and 6:30 at the Ashe County Farmers' Market in West Jefferson.
Pay a 50% deposit as soon as possible to reserve a space, with the total cost due by May 1st.
Full shares cost $500.00 and receive $25.00 worth of food each week.
Half shares cost $300.00 and receive $15.00 worth of food each week.
Vegetarian shares are available. On weeks when beef and/or eggs are included, vegetarian shares will get more produce to make up the difference in cost. Participants are allowed a one week vacation credit for produce at the farmers' market.
Jeff and Betty Thomas, creeksongfarm@gmail.com, (336)385-6302 http://www.creeksongfarm.com
Full Moon Farm
A full share costs $460 and will contain a larger box of fruits and vegetables. A half share costs $250 and is a medium box. Season runs May 22nd – September 25th, with the location and day of pick up to be determined. Sign up and pay on-line at fullmoonfarmnc.com/csa
High Mountain Farm
This is a family farm that is committed to providing healthy, fresh food for their customers. ​They offer local, pesticide free fruits and vegetables. There is a Summer option for 12 weeks, Fall option for 8 weeks, or a Summer and Fall combo for 20 weeks; all in a regular size box, which offer many add-ons each week. These include grains such as grits, corn meal and popcorn, dried beans, homemade jams and jellies, baked goods and fresh flowers just to name a few. The boxes are $25 per week, with pick-up locations being determined by customers in the Boone area. In Ashe they have a pick-up location in Jefferson and West Jefferson and in Wilkes county the pick-up location is the Wilkes County Partnership for Children office.
Pick-ups are done on a weekly basis and Appalachian Grown certified, with non-GMO products offered as well.
Order Deadline: ​April 15th 2018
Email: sonyavannoy@gmail.com
Available: June 6th 2018 – October 24th 2018
Mezzaluna Farmstead
Available from June 1 to Nov 31, covering your Summer and Fall needs. They provide whole rabbit meat raised on non-gmo pellets, pasture and garden surplus. A large share is 4 rabbits per month, with a small share at 2 rabbits per month. Shares are limited, so please sign up for the summer by May 1st, and fall by August 1st! A full share is $150 per season and a half share is $75 per season with a $25 deposit. You can pick-up your shares on the farm in Trade TN, and a Boone location TBD bi-weekly
Certifications: Appalachian Grown
Order Deadline: ​May 1st 2018
Other Information: CSA members will also be able to add-on certain items when available at a discount, including extra rabbit, lamb, produce and berries.

North Fork Farm

Monthly pick-ups are available April 9th 2018 – August 13th 2018. They offer a variety of beef, pork and chicken at a half share ($350) and full share ($600). You can pick up the food at the Watauga County NC Extension Office back parking lot, and North Fork Farm is Appalachian Grown certified.

Order Deadline: ​April 6th 2018
Other Information: They try to be flexible with their customers dietary needs on an as needed basis. ​

Shady Grove Gardens

They are available from April 24th 2018 – September 25th 2018, and offer 4 choices of Flower Shares @ 2 locations, Spring Flowers, Summer Bouquets, Summer Buckets, Late Summer Dahlias. For more information, visit their website or email them.

https://www.shady-grove-gardens.com/flowershare.html
sggarden@skybest.com
Springhouse Farm
Certified organic and in good agricultural practices offering a half share for $360, and a full share for $510.
You may choose to pick up at the Watauga County farmers' market or on Tuesdays at the farm in Vilas between 12 and 6. Email: amyj@skybest.com Sign-up form located on website, to be sent in with payment. http://www.springhousefarm.net/
Trosly Farm
They are available April 7th – November 30th of 2018, and offer vegetables, Artisan Breads and add-ons such as meats, eggs, and baked goods. Full Share: all 35 weeks Half Share: 18 weeks Quarter Share: 10 weeks CSA Tryout: 4 weeks. You can start out with a smaller commitment and decide to continue for the rest of the season! $25/week You can pick-up your food weekly at Banner Elk (Base Camp BE), Trosly Farm, Johnson City, TN (Farmers Market & Main St. Sweets) and they offer home delivery for an added fee. www.troslyfarm.com troslyfarm@att.net
Margie Mansure, M.S., R.D. is a registered dietitian/nutritionist and extension agent with N.C. Cooperative Extension. She offers personalized classes to improve the health of citizens in Watauga County through worksites, schools and community groups. margie_mansure@ncsu.edu (828)264-3061